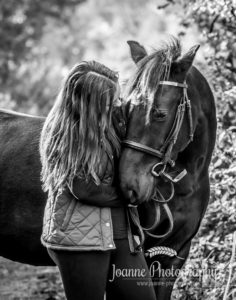 Horse Photographer Hazel Grove Session
On a beautiful morning of September, I travelled to a pretty little yard in Hazel Grove to meet Ella and her mare Cinders.
Ella was very excited about her photoshoot and while she was finishing getting ready I decided to go and explore the yard. There was a lot of nice areas around, a shelter area for the hay/haylage, a big green field with pretty colourful trees, cobbled driveway and more ! Ella also explained to me that there was a bridleway just 5 minutes from the yard where her horse was used to go, so I decided to start at the yard and finish on the bridle way.
I always find it's better to start in an area where the horse is more familiar with, it give me the time to see the temperament of the horse first. I can then see what is possible (or not) and what areas are better suited for the horse personality. For example, if a horse tend to constantly kept their head down to eat the grass, I will try to find country lane, pavement areas, etc…If a horse is too stressed in certain places I will avoid them and find alternative options.
Here are two images taken in the shelter/hay area :
Black Background
Ella wanted to have an image where it would be the horse on a black background. It's always better when we can do it in an indoor area with a door to the outside.
However we did not have any areas like this at her yard so we used the hay area (covered with a roof).With a little bit of editing I produce the final image to meet Ella's requirements.
On the Yard
Starting on the cobbled driveway (to warm up and get to know each other), Cinders was pretty laid back for a young pony but wanted to eat the yard owner's flowers!!
We the moved on at the back of the stables where there was a nice country lane with an edge on the side.
On the bridleway
After our time on the yard we head on the bridleway to finish our session.
Looking for a horse photographer in Hazel Grove (or anywhere in the North West) ?
Why don't you just have a look at my work to see if my style suits you.
Don't leave it too late as I am often booked in advance and only accept 2 to 3 commissions every week.
Contact me for more information.
[maxbutton id="7″] [maxbutton id="12″]